Three contributions in the amount of $50,000 from 2022 to 2024 will support research in digitalization of construction, robotics in construction, building information modeling (BIM), additive manufacturing (3D printing) and sustainability.
The concept of Smart Cities has become increasingly important as urban centers face new challenges in terms of traffic, environment, and safety. This need for innovation makes it important to continue to the progress in the academic world through research in strategies that help to consolidate Smart Cities.
"We are motivated to apply innovative technologies to everyday life, and we also want the School of Architecture at the University of Miami to deploy its innovative knowledge and creative thinking," said Juan Luis Aristizabal, Conconcreto's president.
The "Conconcreto Research Unit" will be housed in a dedicated room within the modeling and fabrication facilities at the University of Miami's School of Architecture. This collaboration will enable sharing of knowledge- and best practices by both institutions. It also provides opportunities for students from the School of Architecture to intern with the company. A conference on Smart Cities jointly held by Conconcreto LLC and the University of Miami will showcase the research in the context of current trends and innovation on May 19th and 20th in Miami
"We are thrilled to have Conconcreto LLC as an industry partner. Their values and efforts align with our strategic priorities including, the investment in technology for a resilient future." said Dean of the School of Architecture, Rodolphe el-Khoury.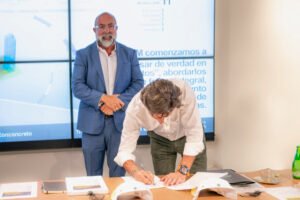 About the University of Miami:
A VIBRANT AND DIVERSE ACADEMIC COMMUNITY, THE UNIVERSITY OF MIAMI HAS RAPIDLY PROGRESSED TO BECOME ONE OF AMERICA'S TOP RESEARCH UNIVERSITIES. A private research university with more than 17,000 students worldwide, the University of Miami is a vibrant and diverse academic community focused on teaching and learning, the discovery of new knowledge, and service to the South Florida region and beyond. The University is comprised of 12 schools and colleges serving undergraduate and graduate students in more than 180 majors and programs. Established in 1925 during the region's famous real estate boom, the institution is a major research university engaged in $324 million in research and sponsored program expenditures annually. While the majority of this work is housed at the Miller School of Medicine, researchers conduct hundreds of studies in other areas, including marine science, engineering, education, and psychology.
About Conconcreto LLC:
With offices in Miami, Conconcreto LLC is an international company that is expanding its design and construction services portfolio to the US, promoting integration, innovation, and sustainability to achieve digitalization in the construction industry. It's corporate office, Conconcreto, based in Colombia has been providing infrastructure, construction, architecture, engineering, asset management and operations, as well as residential services for over 60 years.