"Peter Pan & Wendy," a live-action reimagining of the J.M. Barrie novel and the 1953 animated classic, will begin streaming April 28, 2023, exclusively on Disney+. Check out the teaser trailer and key art for the original movie directed by David Lowery ("The Green Knight," "Pete's Dragon"), and get ready to experience the timeless adventure featuring the beloved characters like never before.
"Peter Pan & Wendy" introduces Wendy Darling, a young girl afraid to leave her childhood home behind, who meets Peter Pan, a boy who refuses to grow up. Alongside her brothers and a tiny fairy, Tinker Bell, she travels with Peter to the magical world of Neverland. There, she encounters an evil pirate captain, Captain Hook, and embarks on a thrilling and dangerous adventure that will change her life forever.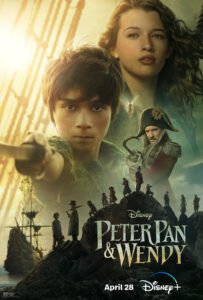 The film stars Jude Law ("Fantastic Beasts: The Secrets of Dumbledore"), Alexander Molony ("The Reluctant Landlord"), Ever Anderson ("Resident Evil: The Final Chapter"), Yara Shahidi ("Grown-ish"), Alyssa Wapanatâhk, Joshua Pickering ("A Discovery of Witches"), Jacobi Jupe, Molly Parker ("House of Cards"), Alan Tudyk ("Rogue One: A Star Wars Story"), and Jim Gaffigan ("The Jim Gaffigan Show").
"Peter Pan and Wendy" is directed by David Lowery from a screenplay by David Lowery & Toby Halbrooks ("The Green Knight") based on the novel by J. M. Barrie and the animated film "Peter Pan." The producer is Jim Whitaker ("Pete's Dragon"), with Adam Borba ("A Wrinkle in Time"), Thomas M. Hammel ("Thor: Ragnarok"), and Toby Halbrooks serving as executive producers.
Director/co-writer David Lowery says, "In making 'Peter Pan & Wendy,' we set out to craft a film that honors both the original J.M. Barrie text and Walt Disney's animated adaptation; we wanted to invigorate our retelling with emotional sincerity, an open heart, and a grand yearning for adventure.
Hundreds of incredible artists spent many years bringing this film to the screen; I'm excited for audiences to see their work, to go on this ride, and to rediscover an evergreen tale from a new perspective.
About Disney+:
Disney+ is the dedicated streaming home for movies and shows from Disney, Pixar, Marvel, Star Wars, and National Geographic, along with The Simpsons and much more.
In select international markets, it also includes the general entertainment content brand, Star. The flagship direct-to-consumer streaming service from The Walt Disney Company, Disney+ offers an ever-growing collection of exclusive originals, including feature-length films, documentaries, live-action and animated series, and short-form content.
With unprecedented access to Disney's long history of incredible film and television entertainment, Disney+ is also the exclusive streaming home for the newest releases from The Walt Disney Studios.
Disney+ is available as a standalone streaming service, as part of the Disney Bundle in the U.S. that gives subscribers access to Disney+, Hulu, and ESPN+, or as part of Combo+ in Latin America with Star+, the standalone general entertainment and sports streaming service in the region.
For more, visit disneyplus.com, or find the Disney+ app on most mobile and connected TV devices